Little Free Libraries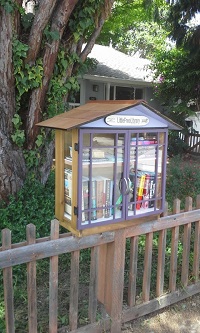 A Little Free Library is a "take a book, return a book" gathering place where neighbors share their favorite literature. It is basically a box full of books where anyone may stop by and pick up a book (or two) and bring back another book to share.
Many people build their own Little Free Library, often as a group or classroom project. Others purchase a kit or completed library from LittleFreeLibrary.org.
These tiny neighborhood libraries embody the essence of a public library on a micro scale. To help spread this idea, the Friends will award up to five grants per year to reimburse purchase or construction cost of Little Free Libraries in Sunnyvale. The grants will be up to $200 each to eligible applicants. To be eligible, your Little Free Library (LFL) should:
- be sturdy and waterproof (find construction tips here)
- have an official charter number (purchase a steward's packet here)
- be registered on the LFL world map (which can be done here)
- have some indication of Friends of the Sunnyvale Library sponsorship*
*FOTSVL sponsorship can be indicated by a sign, a plaque, labels on the books in your library, bookmarks, etc.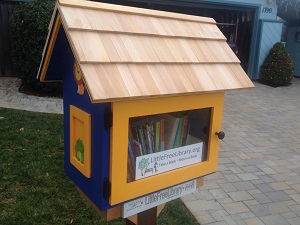 If you have established a LittleFreeLibrary in Sunnyvale and would like to apply for a grant from the Friends, please send us a completed application form with the official charter number, a picture of your LFL, and receipts of related expenses (copies are OK) by mail to:
Friends of the Sunnyvale Library
665 W Olive Ave, Sunnyvale CA 94086
...or by email attachment to fotsvl@gmail.com. Sorry, only one application per residence.